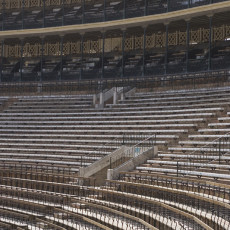 The entertainment district known as The Star in Frisco will be the site for the new training facility of the Dallas Cowboys. Majority of the work done last year has focused on the public portion including an indoor stadium, underground parking garage and two outdoor practice fields along with the headquarters building for the Cowboys.
This private development is a consortium among the Cowboys, the city of Frisco and Frisco ISD and is set to open this June 2016. Crews working on the project are putting in extra hours after encountering some setbacks due to the rainy weather to ensure the doors to the stadium open on time.
The project is on an upward direction due to the generosity of the team through its timely payment for all the upgrades done in the project. The project is at an estimated cost of $252.5 million but might lower to an actual cost of $219 million once payments for performance bonds from contractors are done away with.
One major task for workers on the project is the installation of the roof which requires a dozen 395-420 foot long steel trusses for support. These steel trusses can only be installed using a special crane for heavy lifting. But once the roof is in place, other indoor work can begin.
The stadium is 557,000 square foot and will seat 12,000 people. At its completion the stadium will serve as a hub for high school football games and other youth events aside from being the Cowboys' training ground.
With the public portion well under way, construction of the rest of the project is getting started including the Cowboy's headquarters consisting of two six-story towers, where most of the team's operation will take place, although officials are looking into interested private companies or individuals to lease the some of the spaces for commercial purposes.